One has the ability to login as admin or as a moderator to edit and update the menu fields that can be added to your website and/or app. The purpose and intended functionality of this is to allow the flexibility to change the terminology and rename fields in order to reflect your event.
To do this you will need to login to your website as Admin:- 
Once logged in you will then need to scroll down and click on Appearance:-
Under the appearance menu you will see the Terminology menu. Click on the terminology menu to open it.
The page will refresh and display the terminology page. Under this menu you have the option to rename some of the terms used on the website/app.
Please be advised that the terms in the admin cannot be customizable but some are linked to changes on this page.
From here you can change the name of any of the following fields:-
Chatter
Check In
Collateral
Company
Conference
Contact
Conversation
Exhibitor
Leads
Maps
Meeting
Menus
Message
Note
Poster
Recommended
Schedule
Session
Signup
Speaker
Sponsor
Survey
Tag
User
Once you have updated any fields remember to click Save at the bottom of the page.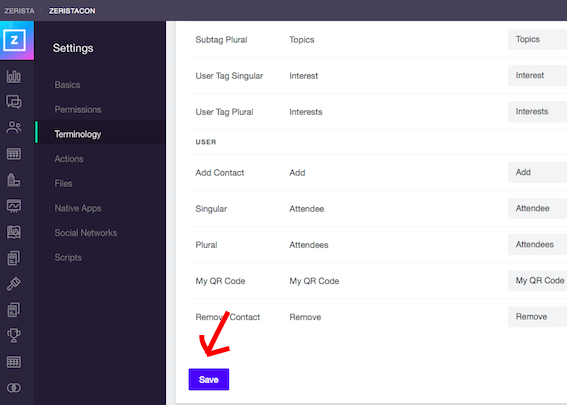 Please do be aware that these changes may not display on your app immediately after they've been put in place as it does take some time for our app to sync data with our servers. For more information on the syncing schedule and how to force a sync, please visit: (https://zerista.zendesk.com/hc/en-us/articles/205647955-Mobile-App-Sync-Times-and-Forcing-a-Sync). 
You may also need to clear your web browser cache data (or test with another web browser) to see these changes reflected on the website as much of our website data does cache within your browser and may need to be cleared out and fully reloaded from the server.
Note: If the term you'd like to change is not listed here please speak to your Zerista rep to see it it can be customised as some terms are hard coded and cannot be changed.