Virtual preferences are website only functions. If a user accesses their meeting requests via the app or the web on a mobile device they will not see the virtual meeting functions to join a meeting.
Note: For all meeting/event times the timezone is going to display next to the time on the website. Times will display in the timezone selected for the conference. Only times that are available for all parties will show up in the drop down menu. If a time is not available, then one or more attendees has already booked that time with another meeting or session, or marked it as unavailable.
Once virtual meetings are turned on for your conference, the system will automatically supply a Jitsi link to all meetings. Jitsi is a video conferencing service that allows free meetings with no time limit. If you have a hybrid conference of both virtual and physical locations, an attendee will select a location and also get a meeting link. The Zerista scheduler tool also supports virtual meetings and will generate an individualized meeting link for each meeting it creates.
If you need to switch an in person event to a virtual event or a hybrid of virtual and in person, links will display for all previously scheduled meetings instead of or in addition to their previous physical location.
Virtual Only Meeting Request:
Virtual and In Person Meeting Request: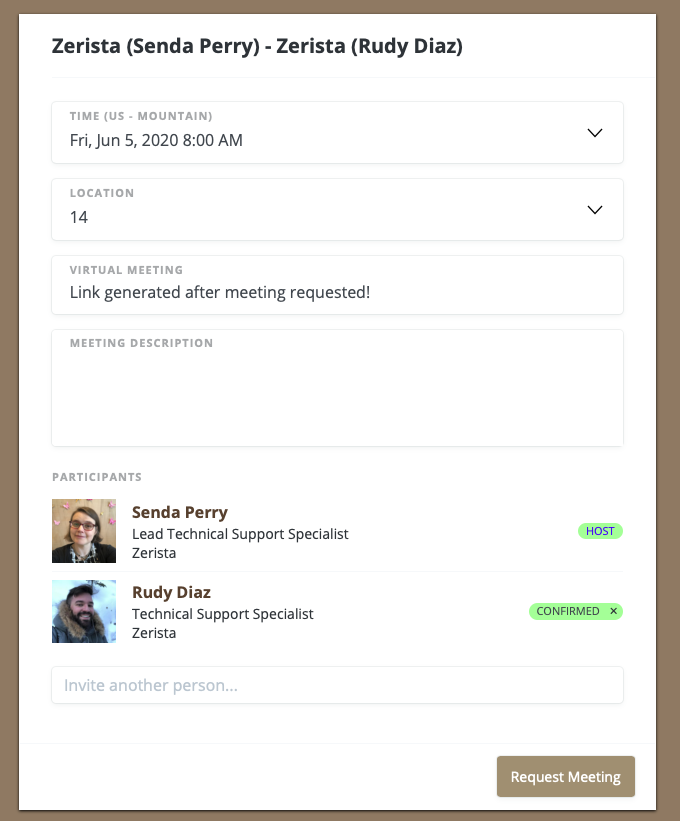 Once a meeting is added, a "Virtual Meeting" link is listed as part of the Meeting under "My Schedule," as well as being included in the default email sent by the system to the meeting participants.
Virtual meeting links are specially tailored to only allow those invited to join the meeting, however a user can still follow a link if the meeting is cancelled, expired, declined, pending, or confirmed -- as long as it is part of their schedule that link will be useable for them. Links become active 5 minutes before the meeting start time, and expire 5 minutes after the meeting's end time, but once the users are in the call there is no time limit on how long they stay.
Virtual Meetings in Action