This post will outline how to create achievements under Gamification and how this is incorporated into the game itself.
Once you have created the game under Gamification click into the game to open the menu.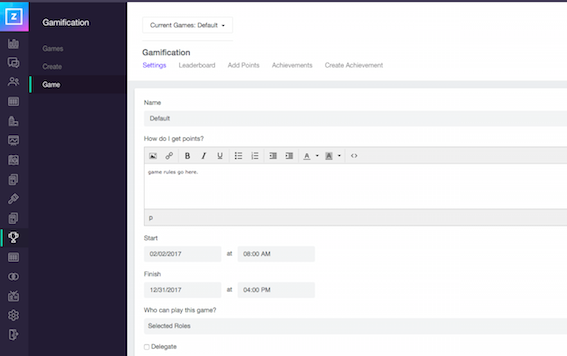 Click on Create Achievement, which is located at the top right of the page.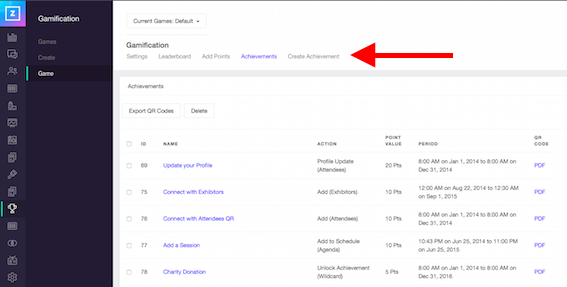 The list of menu fields are as follows:-
Achievement Types - Add (Attendees), Add (Exhibitors), Add to Schedule (Agenda), Add (Posters), Posts, Profile Update (Attendees), Complete Survey (Surveys), Unlock Achievement (Wildcard).

Name

Start Date

Finish Date

Start Time

Finish Time

Points
From the Achievement Type dropdown menu, select the achievement that you would like to create.
Fill in the rest of the fields, including the amount of points earned from this achievement, and click Save.
For some achievements there is also a Cap/Limit field. Fill this in if you want the people to only get this achievement a certain amount of times. This applies to:
Add (Attendees)
Add (Exhibitors)
Add (Schedule)
Add Posters
Posts
Complete Surveys (Surveys)
NOTE: This cap is specific to how many times someone can get the achievement, not how many points the attendee can receive. For instance, if the achievement is worth 10 points and and they can only get up to 50 points, then in the Cap/Limit field, it should be 5, so they can only get that achievement 5 times. 
The new achievement will now be under the Achievements menu. Under this menu you have the option to delete achievements, and view PDF's of their QR codes.
When you are done creating achievements for your game, you can export all of their QR codes as PDF's.
When creating achievements you have the option to make use of "Additional Filters." They can be applied to these achievement types: 
Add (Attendees)
Add (Exhibitors)
Add (Schedule)
Add Posters
Posts
Complete Surveys (Surveys)
For Posts, the additional filters are shown below. You will need to create individual achievements for LinkedIn or Twitter.
The Survey achievement will require you to select a survey, as shown below.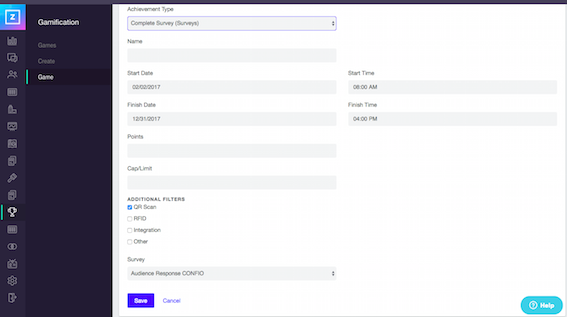 For the Exhibitor achievement, you can see the various filter options to select from.
For the Schedule achievement you have the option of selecting the filter for Session or Track.
The Poster achievement allow you the option of picking a particular Poster or Group from the dropdown menu.
Lastly, with regards to the Attendees achievement, you can have this set to score when adding attendees. Alternatively, you can use the Add Filter drop down filter menu to select a particular attendee as shown below. Follow the same instructions as mentioned above and when complete please remember to click save.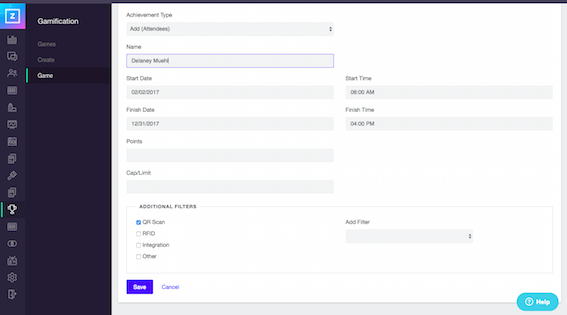 If you require any further assistance, please contact support or your project manager.