Start off by logging into admin and following the steps below: 
Once you have clicked on the attendees tab, you will see a list of all the people currently loaded into your site. Notice there will be columns that indicate certain things about the attendees such as First Name, Last Name, ID number, Actions, etc.
If you click on the attendee's name, you will be able to have more information about that specific attendee. You can switch to that user, reset their password, message the user, lock or unlock their account. 
Account: Allows moderators to manually edit the attendees name, email and ID number.
Notifications: Allows moderators to change how attendees are notified when specific actions are performed in admin. Notifications can be turned on or off from here. 
Reset Password: Allows moderators to change the password of an attendee. There is NOT a notification that is sent out when the attendees password has been changed so it is up to the moderator to notify them of the change.
Profile: Allows moderators to change information on the attendees profile. This information can be changed by the attendee as well. Examples of certain things that can be changed or added are profile pictures, company names, selecting attendee tags, etc. 
Attendees can also be created manually. Select the Create button after hovering over the attendee tab.. An attendee can then be created by filling out the first name, last name and email address. The attendees email address must be provided in order to add them into the admin. The email is a unique identifier so attendees cannot share a single email address. Then select the membership type (Member, Speaker, Moderator, etc) and click Create. Once the attendee has been created, they will appear in the list alphabetically by last name.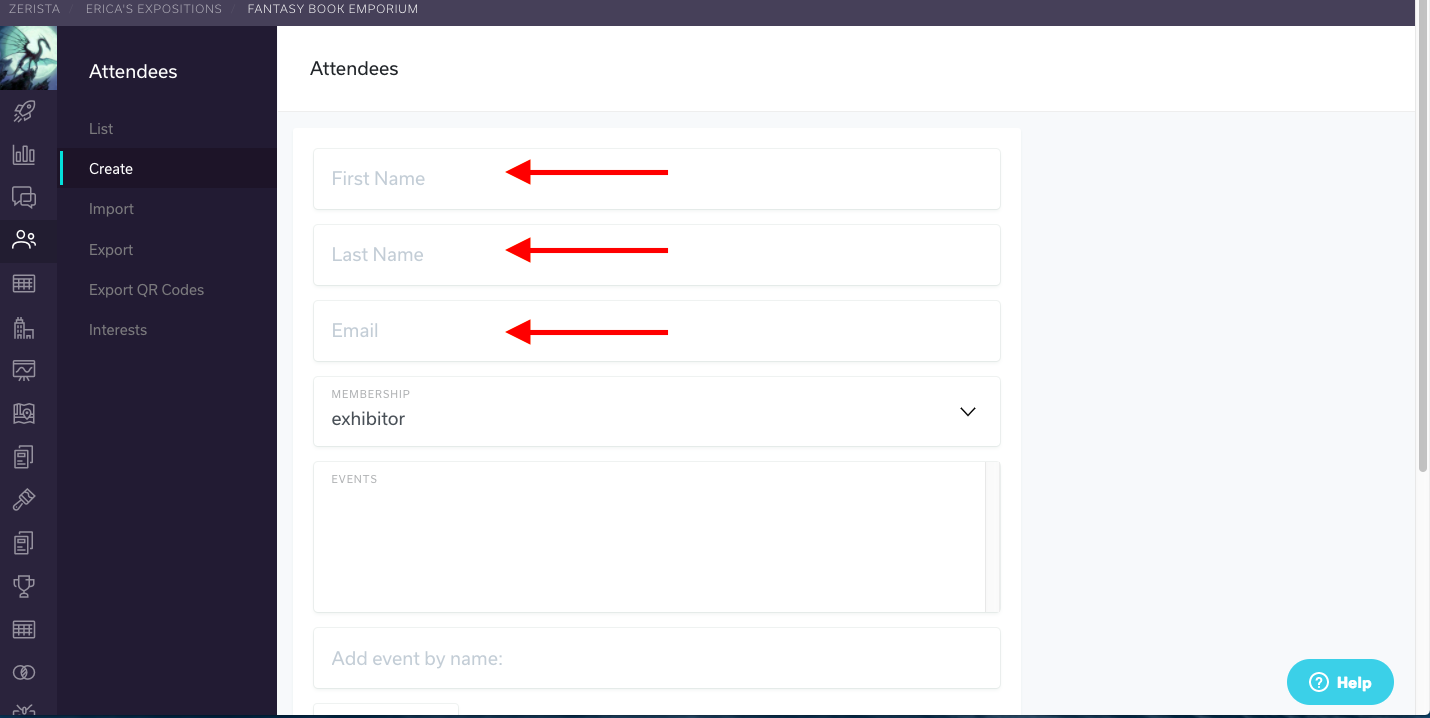 **Please note that this function is best used when adding up to 5 attendees at a time. If adding more than 5 attendees at a time, it is best to use the import function at the top of the page. 
Troubleshooting:
If you get an error after attempting to add a new user, the error will specify who the email address listed for the new user is currently associated to.
If the name appears to be completely different than you will need to tell the user that so and so is already using that email address and that they will need to provide you with a unique email address in order to be added to the system.
If the name appears to be similar (ex. Email is currently associated with John Smith and the user you attempted to add has a first and last name of Jonathan Smith) then repeat the same steps to create a new user, but use the name currently associated with the email address.
For information on importing multiple attendees, please Click Here