Exhibitors refer to the company listing, not the individuals associated with an exhibitor (exhibitor contacts).
The unique identifier in the system for an exhibitor is the exhibitor name.
TIP! Load exhibitors before loading the associated exhibitor contacts through the attendee import function. When you load an exhibitor contact and their company name matches the name of a company already created for the conference, the system will automatically make that person a contact for the company.
Importing Exhibitors
Populate the following template with your data: Exhibitor_Import_Template(4).
Save your file as .csv
Upload your template.
Manually Adding Exhibitors
Click on the Exhibitors menu
Click on Create
Fill out all relevant information for the company
Adding Exhibitor Contacts
Adding an exhibitor contact gives a user the permission to access and edit company profile data. When this user logs in, they will see an additional menu item "My Exhibitor" (or "My XXXX" based on terminology). Here, they may create a virtual booth by adding a company logo, web links, brochures and other media information. [Note: Your project must include a full website for exhibitor contact access. This may not be done through the mobile web or native applications.]
You may add exhibitor contacts using the Attendee importer (see https://dev.zerista.com/moderators-how-to-use-the-zerista-platform/loading-attendee-data/), or using the following method:
* In the admin tool, select the Exhibitors tab
* Locate the company of interest, and to the right select "contacts"
* Add a user by their name or email address (as listed in the system)

* Select "Add"
Creating Sponsorship Levels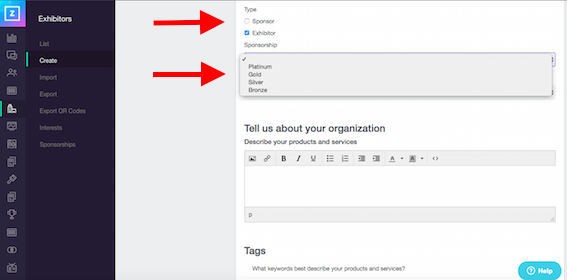 Make sure to hit save once you have created a new sponsor!
Want to see it in action? Check out our video on importing data.