To customize email templates for your conference, log in to the admin and open Engage>Templates:
This page shows a full list of all the email templates in the Zerista System. Click on the template you want to edit. This will bring you to the temple preview page. Below is an example of the Exhibitor Invite template's preview: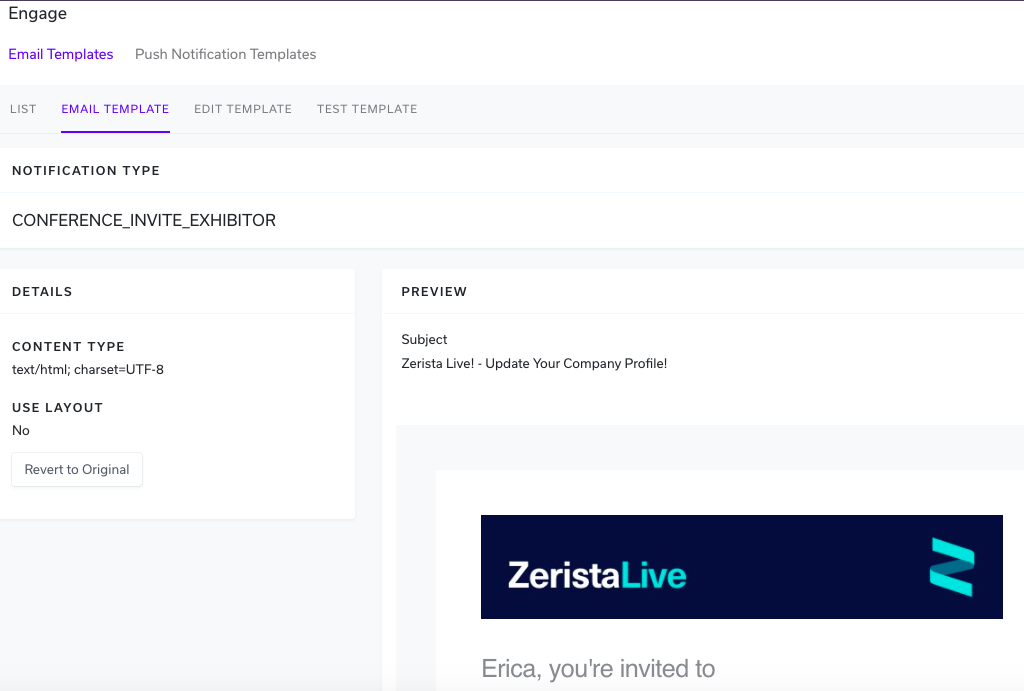 To open the template editor, click on the "Edit Template" button in grey above the "Notification Type" box:
On this page you can control all elements of your email template. Please note that at the bottom of this page is a Reset button, so that you can always return to the original.
Details
The "Content Type" Drop-down menu allows one to select if your template will use plain text or if it will use simple text/html elements.
The "Use Layout" checkbox controls whether there is automatically a footer with the information about who sent the email and a link to the Zerista notifications page for the recipient to change their notification preferences if they no longer wish to receive emails.
Content
The top box in this section is where the title of your email is controlled. Some ruby code elements can be used to automatically pull conference name/etc from the system as you see in the above screenshot. This is enabled by default. The name of your conference is being pulled from the "Conference Name" field in Settings>Conference.
The second box in this section is where you edit the content of the body of your email template. You can utilize the easy text editor to make basic changes (bold, italic, underline, insert image, hyperlink, etc) or click on the "<>" tool to open the html code editor; this allows more advanced users to directly change the html code of the template.
Note: For complex changes to ruby code, background colors, tables, or formatting, please reach out to your Zerista Project manager for assistance.
Once you've completed any changes to your template, click "Save" at the bottom of the page. You can test your template via the "Test Template" link in grey above the "Notification Type" box.
For full instructions on testing your invite/reminder templates, please click here.
Note: Adding custom HTML to your templates may cause them to not appear in the preview correctly. We advise testing all emails and sending to your inbox for the true user experience