Start off by logging into admin and following the steps below: 
Once you have clicked on the Agenda tab, you will see a list of all the sessions currently loaded into your site. Notice there will be columns that indicate certain things about the sessions such as the Session Name, the date the session is occurring on, the time, the location, etc. 
Clicking into the session allows a moderator to edit the session. From here, you can change name of the session, the date and time, the description of session, etc. Add speakers to the session by selecting speaker type in the drop down list and typing in the individuals name in the Speakers section.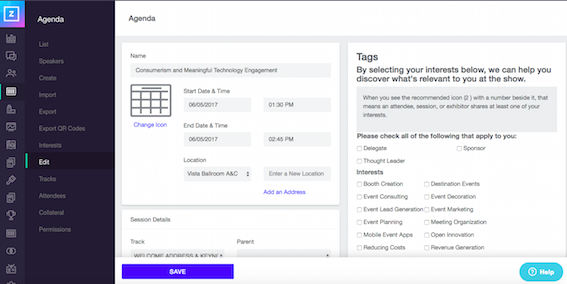 Sessions can also be created manually. Select the Create link at the top of the page. From here, manually enter the name date, time, location, description of the meeting, who will be speaking at the session or what interests tags the session might fall under. Survey's can also be added on this page directly to the session.  When the moderator has finished editing the session profile, click save at the bottom of the page. Once the session has been created, it will appear in the list chronologically.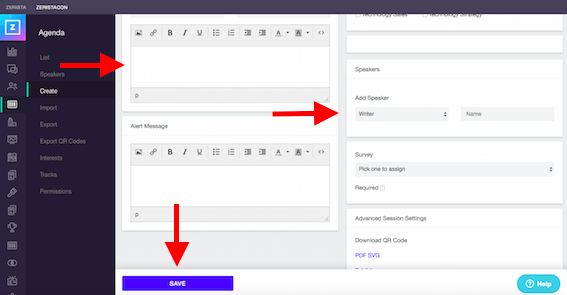 **Please note that a moderator will want to use the import function to upload multiple sessions at once. Click here for more information on how to import sessions into admin.
For information on importing multiple sessions, please Click Here