Hosting files within our site is most commonly used for hosting images or pdfs so a secure URL is created and can be used for custom content pages (such a bus schedules, gamification rules, other extra content), company logos, speaker profile pictures, fav icons, and more!
Any custom files that need to be hosted on the Zerista cloud server can be added via the admin page of your website. You can get to this by logging into the Zerista admin (https://eventnamehere.zerista.com/admin), then clicking on the "Settings" menu tab. Once on the settings page, click on "Files" and you will be brought to the main conference files listing page. (Ex:https://youreventnamehere.zerista.com/admin/file/conference)
By clicking on the "Choose File" button you can select any files you'd like to securely host on the Zerista cloud. 
By clicking on any filename you will be brought to the secure hosted url for that file, which can be used in a custom content page, etc..
You can also view other sub menus such as Collateral, CSV Uploads and QRCode Exports.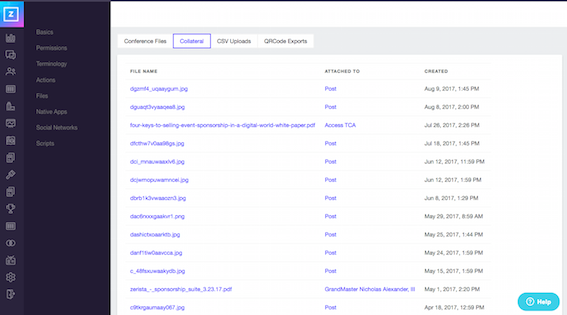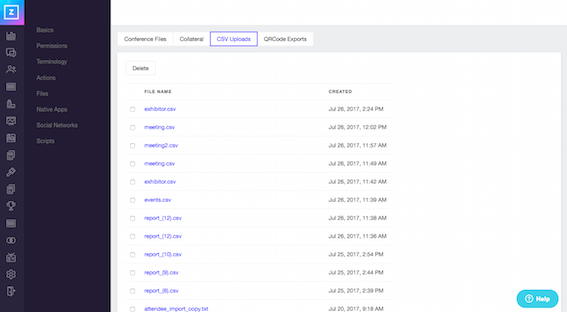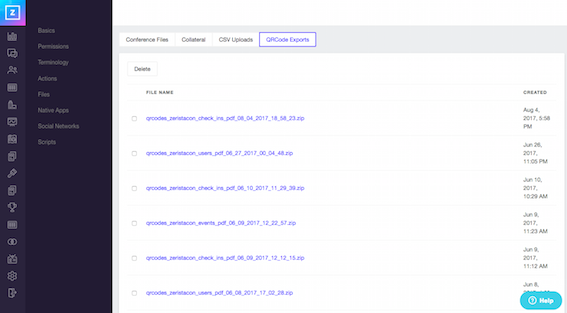 *Note: Any files that have been uploaded via the front-end of the website by a normal attendee/exhibitor will appear in the "Collateral" tab of this page. Any .csv uploads of Attendee/Exhibitor/Poster/etc lists will appear in the "CSV Uploads" tab of this page. Any compiled QR Code Export files that have been sent to moderators can be found in the "QRCode Exports" tab. The file can not be more than 25mb in size. 
**Click here for information on how to create Custom Content pages.