First, log into the admin of your website (https://www.conferencename.zerista.com/admin).
Go to Settings. On the right column you will see Date Format and Time Format.
The Time and Date Format are set up by character values (%x, %y, %z). There are different possibilities to set up the Date and Time depending on the characters you choose. They allow you to format the time (hour, minute, second, etc) and date (year, month, day, etc) to suit the standards for where your event is taking place.
In the screenshot below, you will see the character options as well as examples of different formats. Simply replace the characters to suit the format that you want.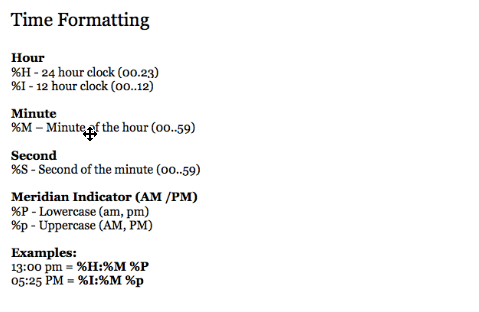 Once the correct format has been entered in the settings page, scroll to the bottom of the page and click Save.
If you require any further assistance on this please contact Zerista support; alternatively, contact your project manager for more information.