The gamification feature allows us to embed a game within a Zerista app. Games attract more users to apps, promotes interaction. It's good, clean, competitive fun, and promotes a friendly atmosphere at an event.
Game Promotion
You can choose to add a game icon to the home page of the website to inform users there will be a game at the event. Choose a name for your game and create a 400x400 thumbnail for the site. See the example: GameWebsiteThumbnail400x400.png. We encourage advertising prizes on the icon as well!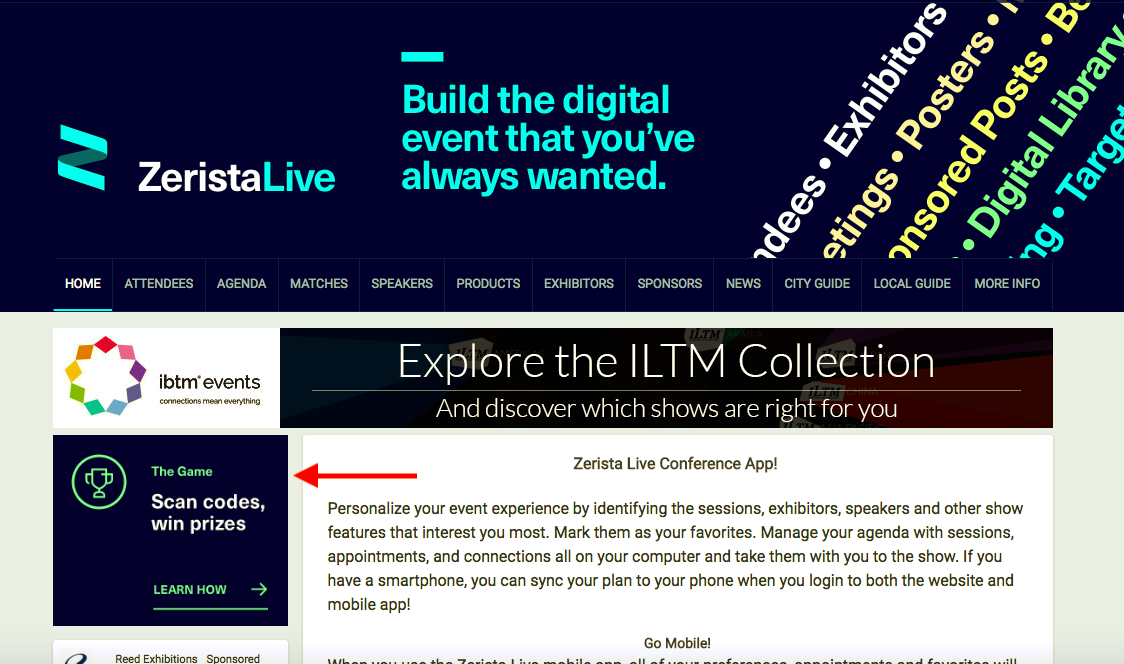 A gaming rules page will be embedded on the icon. You have the ability to add a header image to this page. This image dimensions need to be 650x250 pixels. See our example: exampleGamingBanner.png. Banner placement is shown below.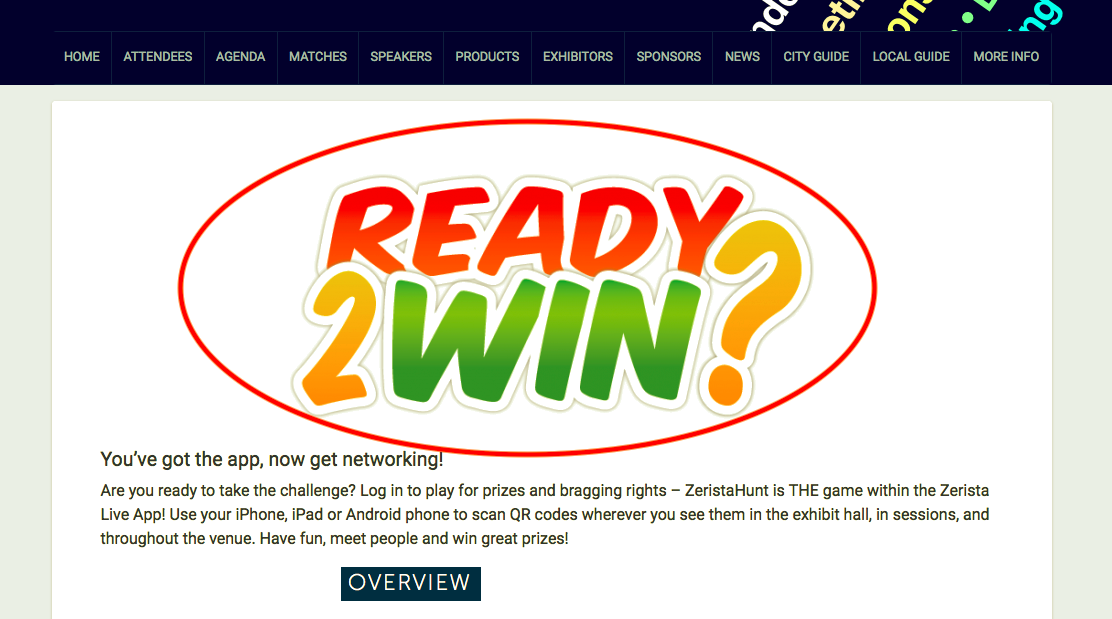 Gaming in the app
Creating Your Game
The first step is to start populating our rules page using the example rules (ExampleGamingRulesPage.docx).
The following achievement types can be added to your game, with options for implementation listed below each entry:
Add Attendee:

Scan the attendee's QR Code (on badge or in the app)
Adding an attendee as a favorite
Attendee values can be as specific or as general as needed. For example, adding a specified Keynote Speaker can be worth 100 points, while general members are worth just 10.
Add Exhibitor and/or Sponsor:
Scan the exhibitors' QR Code (printed copy or incorporated in exhibitor's booth graphics)
Adding an exhibitor as a favorite
Point values can be adjusted based on exhibitor type. Sponsors can be worth more than exhibitors, and vice versa
Change the point value of sponsors based on their sponsorship level (ex. Platinum=20 points, Gold=15 points, etc.)
Change the value of one or more specified exhibitors
Add to Schedule (Agenda):
Scan the session's QR Code (printed copy or incorporated into the presentation)
Add a session from the Agenda page
Change the value of specified sessions
Adjust point values based on tracks, if applicable.
Posters:
Scan the poster's QR Code (printed copy or incorporated into the presentation)
Add a poster from the app or website
Posts:
Twitter - Make a post to Twitter via the app/web posts section, and award points to users for making posts directly on their twitter
Facebook - No longer supported, do NOT use this gaming achievement
LinkedIn - Make a post to LinkedIn via the app/web posts section
Zerista - Make a post to posts section on the app/web

Post Type - points values can be adjusted for posts on specific pages with chatter sections, posts containing images, and more.
Hashtag - only posts with specified hashtags will allot points

Timed posts - You have the ability to use any of the above post features and set a time frame for it to be active and award points.
Update Profile (Attendees)
Awards points to users for making changes to their profile (ex: adding their twitter handle to their profile)
Complete Surveys (Surveys)
This achievement allots points for completed surveys, if applicable.
Unlock Achievement (Wildcard)
The jack of all trades. Simply generates a QR Code to be implemented by the organizer's discretion. Some basic ideas for implementation are as follows:

Hidden Wildcard - The QR code is hidden at a specific location on (or off) the venue site. Finding and scanning it awards points. 
Answer Conference Trivia Question - QR code is hidden at a booth. Attendees must correctly answer a trivia question at that booth in order to see the QR code to scan. 
Multiple Games: events can have more than one game for their event, however, a user can only play one game per event, likely based on their membership type.
Caps: limits the amount of times a user can earn points for an achievement; it is recommended to apply caps for achievements with a high potential for abuse, such as general "Add" achievements.