Before we get started, click here to learn how to add a map to your site.
Note: if you have an existing map, updating a map means you will have to relink every box that previously existed on the map.
To edit your map in the admin of the site go to maps - list - click on the edit button
On the left hand side you will see a small menu:
These images represent the following actions:
1. Draw shape - use when the area on the map is not an exact square shape. Follow the area you would like to tag, clicking each point on the shape. Clicking your first point a second time will create the shape and allow the shape to be saved.
2. Draw square - First click is one corner, hold and drag to create a box over the area. Once the box is created, release the hold so the box will stay and allow you to save the location.
Note: If items 1 or 2 have been used, a window will appear where the box can be given a feature name. Make sure to use the exact same name as the location provided for the session, booth #, or Poster Location (space by space, letter by letter, this much match exactly)

3. Drop Marker – A pin. Different type of marker instead of drawing a box.  Pins only work on venue and poster maps.  Do not use pins for an exhibitor map.

4. Edit – click the tag you would like to edit - click the edit button - click save. 

5. Delete – click the tag you would like to delete - click delete - click save. 
We recommend using the zoom-in function before you draw on the map, to make it easier to see exactly where you want the location tagged at. 
For this example I have used the rectangle to draw a box on the map:
When you have provided a name in the box above you have to click Save.
You will now see below that the box has been saved on the map.
Don't forget to save after you're done editing the map! Go back to admin - maps - list - and click on the name of the map to preview what you have just created.
You can click on the name of the map to view how it looks on the front end of the site.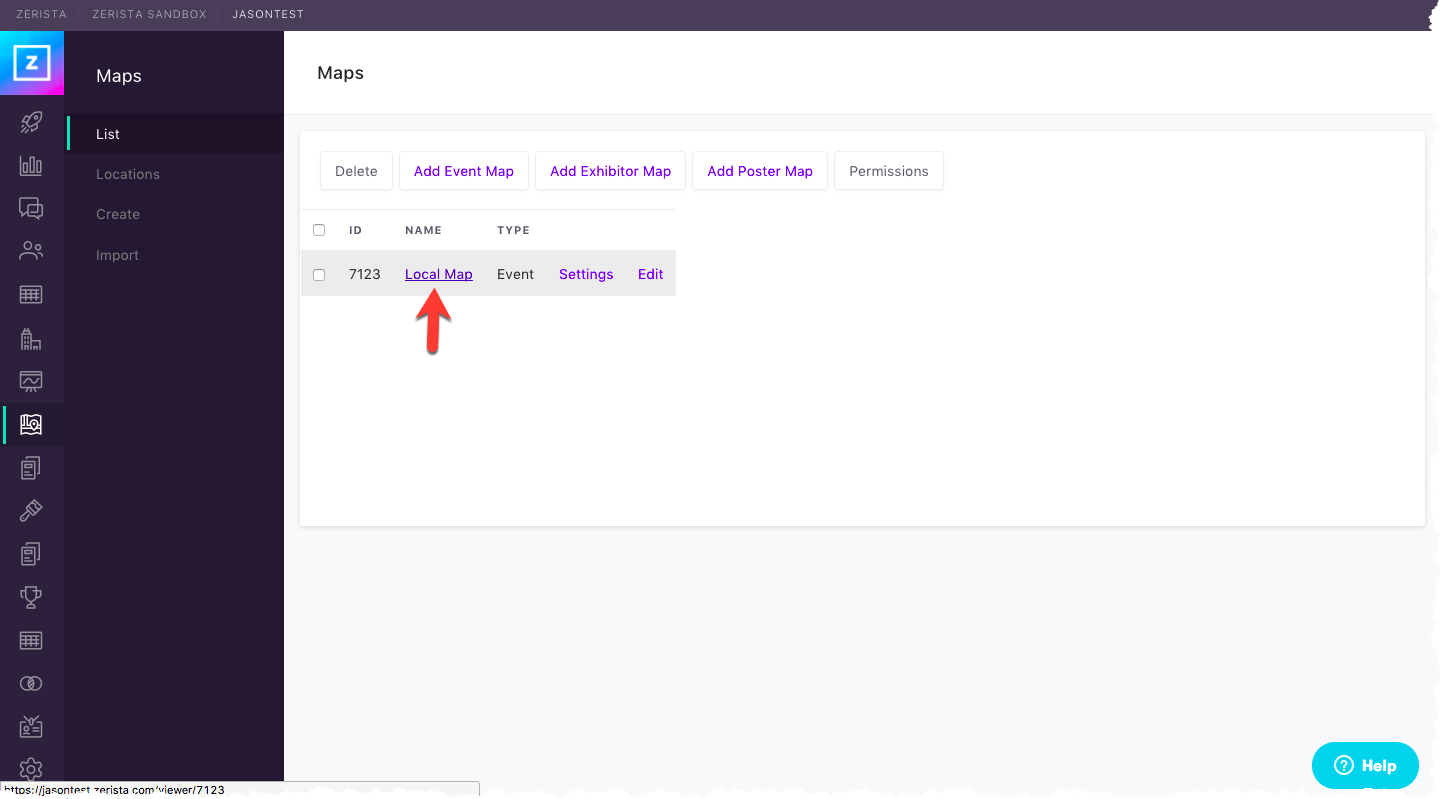 Tips
-Careful when dragging over the top of other shapes. If you click on the exact corner of another it will not work.
-If overlapping boxes, do the smallest ones first. If you do the largest box first, and have to delete one of the ones below, you will not be able to select it.
Any questions please reach out to your Project Manager.