You have the ability to perform multiple actions to a user's account. In order to access this portion of the admin, you'll want to go to admin - attendees - list - "actions" on the right hand side of the screen as you can see in the screenshot below.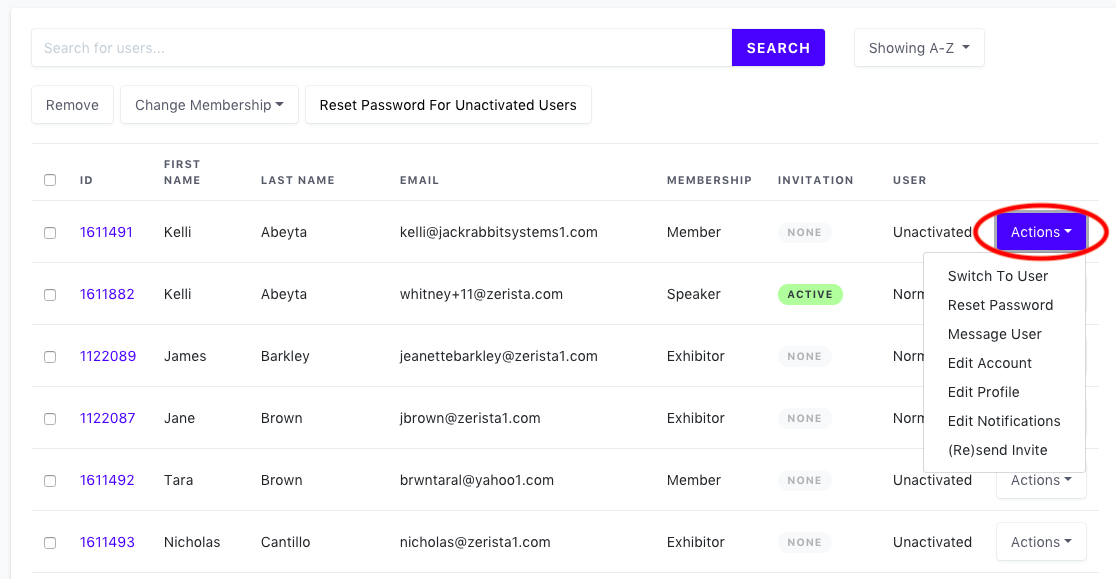 Find information on the specific actions below:
Switch to User
As a moderator, you can switch to any user's account in the attendees list. If a user needs help adding something to their schedule or personalizing their account in any way, the quickest way to do that is to switch over to their user, and show them how to complete the action. Once you switch to the user's account, you'll be brought to the front end of the site. Don't forget to switch back to your own account once you're done by clicking the dropdown and selecting your name in the upper right hand corner.
Reset Password
We all know the feeling. You try to log into your account, and haven't the slightest clue which of your 50 passwords it is supposed to be. When the users are unable to log in, here is how you help them out:
Click Actions
Click Reset Password
A window will pop up and you can reset the users' password
Set their password and click Save
Be sure to let them know what you set their password to (the system will not send them an email with password info)
Upon login the user will be asked to reset their password from this reset
Message User
You can message users from the site. Depending on notification settings, the user will receive the message on their app (if downloaded) and via email.
See below for where to find this option:
Edit Account
Sometimes an attendee will say that they want to change the email on their profile. For example, we have their work email in the system, but they have their personal phone (w/ their personal email) at the conference or maybe their account has their name misspelled. To change this:
Update the user's name and/or email address
Click Save
**Note: If you get an error saying this email/name already exists in the system then you just need to add them to the conference. Click here to learn how.