A push notification is a message that pops up on a mobile device. App publishers can send them at any time; users don't have to be in the app or using their devices to receive them. They can do a lot of things; for example, they can get a user to take an action, such as filling out a survey or responding to a message or meeting request.
Push notifications look like SMS text messages and mobile alerts, but they only reach users who have installed your app.
Why are they used?
Push notifications provide convenience and value to app users. For example, users can receive:
Meeting Requests
Messages
Event Planning (Schedule for next session)
For app publishers, push notifications are a way to speak directly to a user.
We can configure how notifications are received by the end user whether this is via Email or Push Notification. 
One tip to advise is that it is recommended that the notifications be configured prior to launching the site as any notification changes will not affect active users.
To set your notifications you will need to do this under admin once you have logged in.
Go to Engage > Notifications
The page will refresh and you will now be under the notifications menu.
Under this menu you set and configure how you would like notifications to be received. If you decide that your notifications are too much or too little, you may adjust these settings at any time.
If you make a mistake with how you have setup the notifications you can always click on reset to return the notifications to their original state.
The next thing to learn about is how to edit a users notifications under their id in the admin.
To do this go to the Attendees menu.
Next select an Attendee from the list. Under the users profile you will see the notification menu.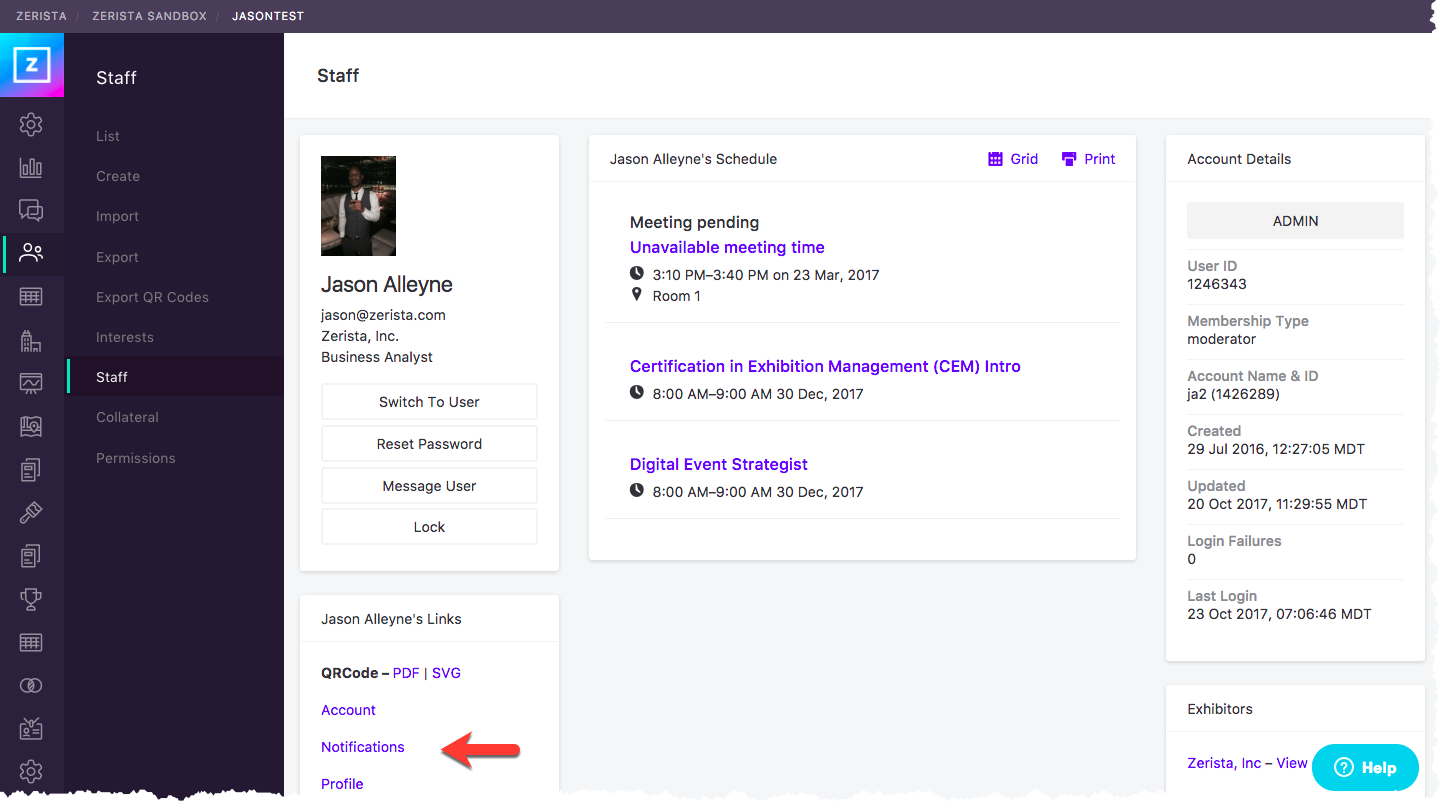 You will noticed that you have been taken to the same page that you have previously used when configuring notifications. The only difference is that you are configuring the settings for this individual user.
I have included the address bar at the top in the below screenshot as an example.
Again once you are happy with the recent changes scroll to the bottom of the page to click save.
The page will reload just like before and you will have a confirmation message that the notifications settings have been updated.
If you require any further assistance on this please contact your Project Manger in the first instance, alternatively contact Zerista Support for more information.