The schedules section of the admin only pertains to clients using our advanced meetings tool. Reach out to your Zerista project manager for further information about advanced meetings.
By opening Schedules in the admin portal of your site, you'll see a list of companies at your event along with the number of proposed matches, the meeting limit per company, and the number of meetings to be assigned to each company. You can click into any of these three numbers to drill down further on specific information.
Click on "grid" to see the company's schedule in a digestible format. Click "print" to get a PDF version of each company's schedule.
In the reschedule section of your site, you'll notice that you have a schedule view of each day of your event based on the rules you set up under schedules - rules (see below for more info on this). Type a name in the search bar to pull up the schedule for a specific company or attendee. You can also click into a specific time slot to mark users as "busy," delete items off users' schedules, or "add" items to users schedules.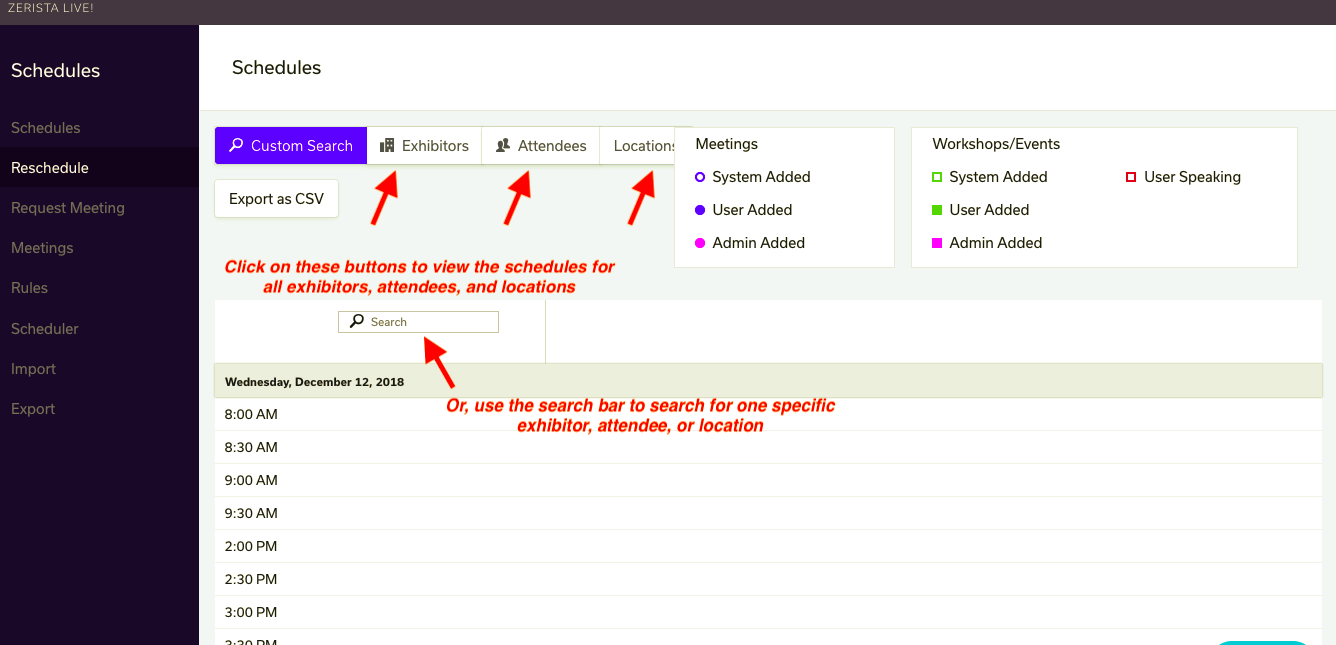 Use the Request Meeting menu in this section to set up a one-off meeting. You can choose a subject, write a message, choose a location, and pick a time. You can also add attendees and companies to this meeting. If you are using surveys, you can assign a survey (and require it) from this menu as well. If you choose to set up a meeting with a company, be sure to "assign" the users under that company to the meeting so they see the meeting on their schedule.
Under the Meetings menu you can see a full list of all meetings created including participants, meeting states (whether or not the meeting was confirmed or declined), the date and time of the meeting, as well as location.
In the Rules section of admin, you're going to set up rules regarding meetings created in the site. Click here to learn more about setting up rules to fit your site.
The Scheduler menu item is where we will run the advanced meeting scheduler. Click here to learn more about running the scheduler. 
Under Import, you'll find instructions on importing meetings from a CSV spreadsheet.
Under Export, you'll be able to export all meetings created in Zerista into a spreadsheet. This spreadsheet will be emailed you to in .csv format.